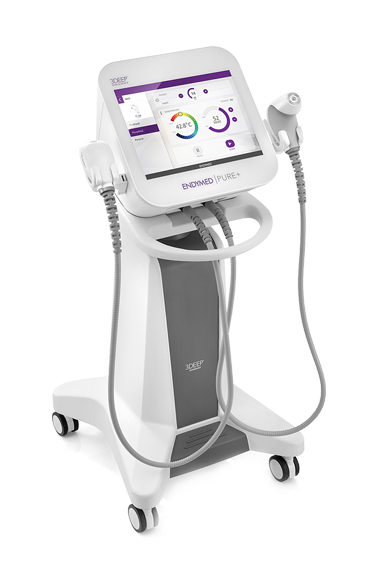 EndyMed 3DEEP
Results you can trust
EndyMed 3DEEP is an FDA-cleared, non-invasive treatment used to reduce wrinkles, tighten skin, treat cellulite, and contour the body. Radiofrequency energy is sent to multiple layers of the skin simultaneously, which stimulates the body's natural collagen. This energy is delivered through a variety of handpieces which are customized for different applications and treatment areas. The treatment is painless and requires zero downtime.
EndyMed offers the ultimate in clinically proven, effective aesthetic treatments for superior patient satisfaction. Covering the full range of in-demand aesthetic treatments, EndyMed treatments are safe, painless, and suitable for all skin types and colors. EndyMed is committed to providing an outstanding treatment experience, quick, comfortable procedures that need no downtime, but deliver amazing immediate results that continue to improve for months after the completion of treatments.
What is it?
What is the unique advantage of EndyMed's
3DEEP RF technology?
3DEEP RF, based on a unique radiofrequency technology,
represents the latest generation in the evolution of skin tightening
and contouring systems. 3DEEP RF technology is comprised of
multiple energy sources working simultaneously and offers, for the
first time, a totally safe, energy-based system that combines delivery
of controlled heat deep into the skin while preserving the overlying
epidermis. Treatment parameters are personalized according to
body area and skin characteristics, assuring minimal discomfort,
minimal downtime and maximal safety for your type of skin.

Ask us about EndyMed 3DEEP and how it can help you reach the results you desire.
What should I expect during the treatment?
During the procedure, deep skin layers are gradually heated, while the skin surface remains around 40° C (hot shower temperature). Your skin temperature will be constantly monitored. Depending on the size of the treated area, treatment may take between 30-45 minutes. The treatment is relaxing, pain free and has no side effects.
What is the recovery time?

Following treatment, you can immediately resume your routine activities. You may notice slight redness around the treatment area, which usually disappears in a couple of hours.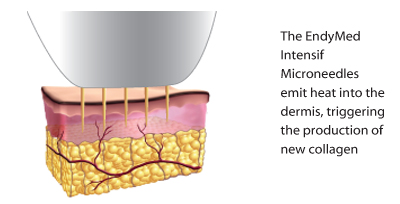 How does it work?

EndyMed 3DEEP RF system
RF (radiofrequency) is an advanced technology that safely heats the collagen in the skin (dermis and subcutaneous tissues). If sufficient energy is delivered, the collagen will contract, providing an immediate change in skin appearance. The treatment also triggers a second process of new collagen production, leading to a significant change in skin appearance. A result of collagen remodeling is tighter, younger looking skin.