Fractional Skin Resurfacing
Endymed™ 3DEEP® Fractional Skin Resurfacing (FSR)
Minimal Downtime, Minimal Discomfort. A 3 dimensional skin resurfacing treatment that combines micro-fractional RF skin ablation with volumetric dermal anti-wrinkle effect in a single pulse. Results in brighter skin, reduction of epidermal hyperpigmentation, improvement of skin texture, smoothing of wrinkles and treatment of scars. A minimally invasive procedure with minimal discomfort and minimal downtime. Clinically proven 3DEEP® RF technology.
3DEEP® Advantage – Treating All Skin Layers for Effective Results
Fractional ablation is applied to the skin for a smoother, brighter skin surface (stratum corneum and epidermis) and reduction of hyper-pigmentation (epidermis). Simultaneously, volumetric deep dermal heating is applied to the collagen fibers causing an immediate and long term skin tightening. This combined treatment effectively treats all skin layers for an optimal result.
3DEEP® FSR – A New Era in Multi-layer Therapy

Now with the EndyMed's 3DEEP® fractional resurfacing treatment it is possible to achieve a good epidermal effect together with deep dermal volumetric heating for anti-wrinkle effects. EndyMed's FSR (fractional skin resurfacing) treatment simultaneously performs micro-fractional ablation on the epidermal layer and deep dermal heating in one pulse.
3DEEP® Fractional Skin Resurfacing is used worldwide for the treatment of sun-damaged skin, reduction of hyper-pigmentation, improvement of skin texture, decreasing the appearance of wrinkles and treatment of acne scars.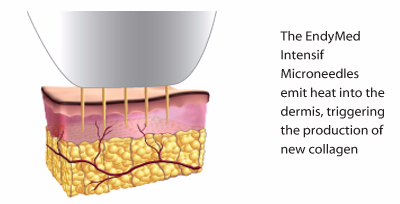 How can 3DEEP RF help me?

Long lasting improvement
Achieve brighter, smoother skin tone
Smoothen fine to moderate wrinkles
Diminish brown spots
Decrease the appearance of scars/ acne scars
No needles or surgery required
Minimal discomfort and minimal downtime
Treatment time on average is 30-45 minutes


Treatment Areas:
Most often preformed on:

Full face
Forehead
Peri-orbital
Cheeks
Peri-oral
Neck
Chest
Hands
Scars/ Acne Scars
Hyper-pigmentation spots
To Book an Appointment, call
(506) 386-1313
or email us at
info@sheermedicallaser.com

The Endymed™ 3DEEP® FSR Procedure
Pre-Treatment
Before an EndyMed™ 3DEEP
®
FSR procedure, your skin may be numbed using an anaesthetic cream. Your skin will feel hot as the 3DEEP
®
FSR hand piece is used to create an energy pulse on the skin. Each pulse will last for less than a second and will create tiny controlled microablations in the epidermis while uniform dermal heating takes place.
Post-Treatment
Your skin may feel hot for an 1 to 3 hours after the procedure and will also appear red. A recovery cream may be applied at this stage to help soothe and calm the skin. Over the next few days it will be a little crusty and flaky as the resurfacing takes effect and the epidermis is renewed. This should normally be resolved after 5 to 7 days.
The use of a regenerating moisturizer and make-up will help manage this and high level UV protection SPF30 during post-treatment period is recommended.
From one week onwards the benefit of the resurfacing with a brighter smoother appearance should start to be noticeable. At the same time the dermal heating will be stimulating new collagen which will start to re-model and tighten from 4 to 6 weeks onwards giving a gradual and natural improvement to fine lines, wrinkles and scars. A course of treatments normally consists of 3 to 6 sessions 4 to 6 weeks apart, depending on skin condition. The results are due to natural changes in the skin and as such are ongoing and long lasting, but will be enhanced with good evidence based skincare, UV protection and periodic top-up treatments.
Apply a soothing product, until mini crust falls off
Avoid rubbing the area until the mini crust falls off
Avoid sun exposure and use sun block for at least 4 weeks post-treatment
Can use fat free make-up, 24 hours after the treatment.
Avoid peeling creams or exfoliants
For MALE clients, it is recommended not to shave for 7 days post-treatment


Frequently Asked Questions